5 rules for successful product customization
Enabling product customization can elevate customer loyalty and engagement. Product customization helps brands boost in-store and online sales.
For example, Nike customers configure their own shoes, Carolina Herrera customers now design their makeup accessories and Gucci allows women to create their own Zumi bag.
According to a Bain & Company survey, customers who had customized a product online engaged more with the company. They visited its website more frequently, stayed on its webpage page longer and were more loyal to the brand. Further details show that in footwear, for instance, customers who designed their own shoes gave companies a 50% higher Net Promoter ScoreSM (NPS®)[1] than customers who bought regular products from the same manufacturer. Higher NPS typically translates to higher sales, referrals, and lifetime customer value.
Enabling customization is also a way to attract the new generation of consumers. Generation Z is looking for more personalized product to build up its own unique identity. Consequently, fast fashion is losing in popularity and high quality unique personalised products are on the rise.
As consumers design their own products, it is also a way for brands to gain insights on their target audience preferred styles. Information acquired this way are a lot more valuable than insights from focus groups. Indeed, in an interview, Brooks Brothers shared that what they learn from their customers in one season thanks to their customization offer is systematically used to deliver the next season's product line. SmartPixels constantly provides analytics to its clients to best optimize learnings from their personalization offer.
Figure 1: Brand approach to customization, depending on life cycle and desired impact of offering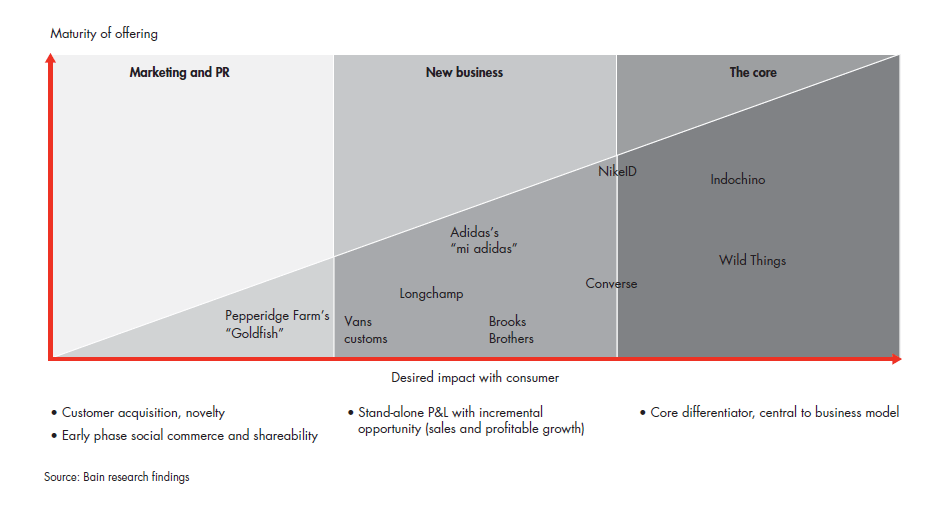 From our experience in the market we have noticed that all successful companies follow five rules.
1/ Clarify the goal of the customization offer
Companies tend to deliver what they believe their customers want. Before diving into product customization for the sake of boosting sales and increasing customers' loyalty, brands should define the desired strategic value. Is the goal customers' acquisition, engagement, or something else? Depending on the aim, the degree of personalization can vary: from a simple customization feature on a product line to a fully made-to-order product. SmartPixels is assisting brands at every step of the process.
2/ Define how much customization is needed
Depending on their goal, companies adopt different strategies.
Some brands, such as Berluti, allow consumers to fully create made to order products. On the other hand, some companies offer a smaller range of customization options – such as engraving initials and adjusting color on shoes (e.g. Valentino Backnet).
Another option to offer clients a personal touch is through product assembly. For example, shoppers at Carolina Herrera design their own makeup accessories combinations. Customers buy different SKUs that are then shipped to them for assembly. This solution makes it easy for retailers as they can sell from a standard product line while making it personal for the end-user.
3/ Keep it simple
Customization can quickly become overwhelming to consumers if, for example, they are confronted with too many options. The UX design is key in creating a unique customization experience. Brands need to keep it clear, simple and straightforward to engage their target audience. If the configurator is unattractive and confusing, many potential shoppers will be turned off. Limiting personalization options and clearly separating the available steps and features is a good way to start.
4/ Allow consumer to share and make it Instagram-friendly
Most of the time, after designing a unique product, consumers are eager to share their creation with their network. User generated content also benefit brands as it enables them to engage with their current consumers and drive new ones to their website. In a way, it is another tactic to promote a customization offer to new audiences. Some companies give customers the ability to save their designs in a virtual catalogue. For instance, The North Face has launched a gallery of designs created by customers for its Denali jacket, which serve as inspiration points for others.
5/ Live up to expectations and deliver a unique customer experience
Launching a customization offer is a daunting task: once supply-chain and manufacturing are in place, you will still need to drive customer engagement and show them the spectrum of available options. Launching a product customization offer also implies keeping the audience entertained while they are designing their product.
Brands who will succeed are those that know their objectives, understand how much customization they really need, keep things simple and create a repeatable model for delighting customers again and again. If you need help on the matter, don't hesitate to contact us. At SmartPixels, we help brands build innovative customization solutions online and in-store.
---
[1] Standard way of measuring customer loyalty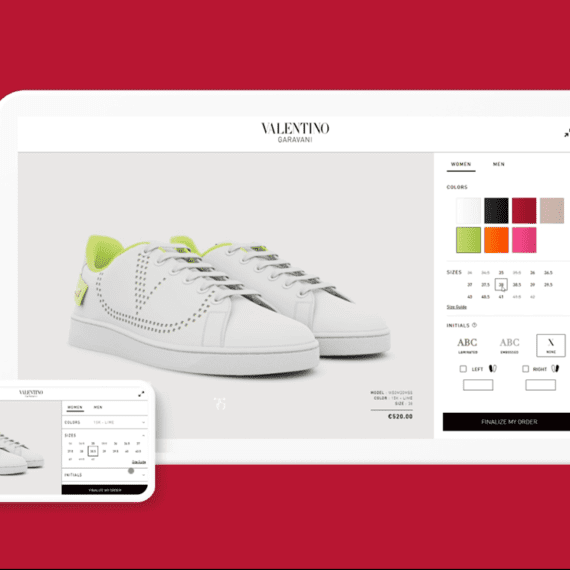 https://www.smartpixels.fr/wp-content/uploads/2021/05/Home-Header-1.mp4 Configurateurs produits interactifs par SmartPixels 6 astuces pour améliorer l'expérience client en ligne grâce à un configurateur produit interactif Souhaitez-vous offrir à vos clients
Read More »