How can 3D configurators help you make a difference
As the way we shop is changing, customer's expectations are evolving. According to Statista, almost half of online purchases were made from mobile devices in 2019.
Consumers are more and more demanding, free returns are becoming the new normal no matter the environmental consequences. However, numbers about the current situation are alarming. According to Optoro, returned inventory in the US creates over 15 million tons of carbon dioxide emissions annually which is more than what 3 million cars might put out in one year. The good thing is that we know the root cause of these product returns. According to Statista, more than 64% of shoppers report returning purchases because the items did not match the description or their expectations. Customers now expect more and better product images, as well as real-time visualization regarding customizable products (Sourcing Journal).

Previously used in Hollywood movies and video games to produce special effects, 3D configurators are now widely spread in e-commerce applications. If we take a deeper look at the fashion industry, this technology can produce most of brands' product visuals needs, offer real-time images of customizable products, reduce waste and returns, and test demand for products in real-time. Let's see how.
Produce most of brands' product visuals faster and cheaper
We live in a world where the importance of visuals is skyrocketing. Generation Z has never looked at life without the prism of Instagram. In this new age, brand communication is becoming organically visual and focuses on authenticity.
When in 2016, consumers were expecting three to five images to visualize an online product, they are now expecting a minimum of eight images per product (Deloitte). This has an important cost implication for retailers. Let's take an example, for a product catalog of 150 products with 4 color variations each, 4,800 images would be required to meet customers' expectations. With time, this number might increase even more as visualization is becoming increasingly important.
As the number of images expected keeps increasing, traditional product photography is quickly becoming extremely costly.
This is where 3D configurators come in. As product visuals are generated through an algorithm, retailers can create a lot more images sooner, cheaper and faster. It is also possible to play with different features, including color variations, change in cut, and material. Using such a tool can save time and money to retailers who would otherwise have to shoot every single product individually.
Compared to simple photography, 3D products also offer a lot more functionalities and hence can help drive sales even further.
Real-time customization visualization
One key benefit of 3D configurators is the ability to interact with the product in real-time. Customers are now able to visualize the product from every angle, in every combination.
In the fashion industry, the demand for personalized products has been booming. 45% of luxury clients are asking for personalized products and most of them are willing to pay a premium for it (Deloitte). In 2019, Salesforce also reported that 79% of customers are willing to share personal information to receive more personalized communications, shopping experiences, and offers.
Using 3D configurators, retailers can leverage this opportunity by showing customers their product customization in real-time, making it more personal. On the other hand, traditional photography would not enable to capture all the possible product configurations during photo shoots.
Another benefit of 3D configurators is that shoppers can also interact with their customized product by rotating it, zooming in, and visualizing it on a model. All these features help brands to gain the trust of consumers in their online shopping experience. It is even more important as we know that increased trust translates into an increased likelihood of buying.
Retailers selling online should keep in mind that customers are willing to pay a premium for personalized products and they are more likely to purchase such goods when they can visualize them beforehand. This can be done using SmartPixels'3D product configurators.
Reduce waste & returns
We have seen that 3D configurators can boost sales. Now, let's see how it can also help fashion retailers reduce returns. Online returns hover between 20% to 40%.
According to Digital Commerce 360, half of the American consumers avoid buying from online shops that don't allow free returns. This is both extremely damaging for the planet and expensive for retailers.
Also, 56% of Americans admit to "bracketing," or buying several sizes to send back the ones that don't fit (Narvar). One way to address this issue would be to display detailed size charts. However, sizing is not the only aspect causing returns.
As mentioned earlier, 64% of product returns occur as the product does not match the image online (Statista). This is even worse when buying a customized product, which are often sold without any product visualization. Including a 3D product configurator to your e-commerce website could significantly reduce the trend of returning products. The product configurator will help shoppers to have a better idea of the product they are purchasing. It is even more important when one knows that 83% of shoppers point to product images as the most influential factor in their purchasing decision. (Deloitte)
A report from Snap36 also shows that e-commerce visuals providing 360-degree views of a product reduce returns by 35%. This feature can easily be implemented in a product configurator.
Test products' demand in real-time
3D configurators can also add value in other ways. Leveraging this new technology can enable retailers to try new strategies on their e-commerce websites. A simple example would-be real-time product testing.

Today, brands are developing new collections without knowing which items might be more or less popular. These guesses lead to unsold garments that end up heavily discounted at the end of the season. These less popular products represent missed opportunities for retailers. Leveraging 3D product configurator, retailers can end up producing only the garments that generate interest. By enabling consumers to personalize and order their favorite products, retailers can turn to on-demand manufacturing. 3D product configurators can create realistic renderings of the brand's products without having to manufacture them.
As one might point out that on-demand manufacturing may take longer to produce; Deloitte's study shows that shoppers are willing to wait longer for personalized products. Hence, made-to-order technology and hyper-realistic visuals appear to be the best solutions to accelerate the industry's transition to more sustainable practices, reducing waste and overproduction. Knowing that our planet has only 100 years to go before its depletion if we continue to consume the way we do today, don't you think it's time to take action? (Ian Chambers and John Humble)

If you are willing to have a demo on your products, contact us at contact@smartpixels.fr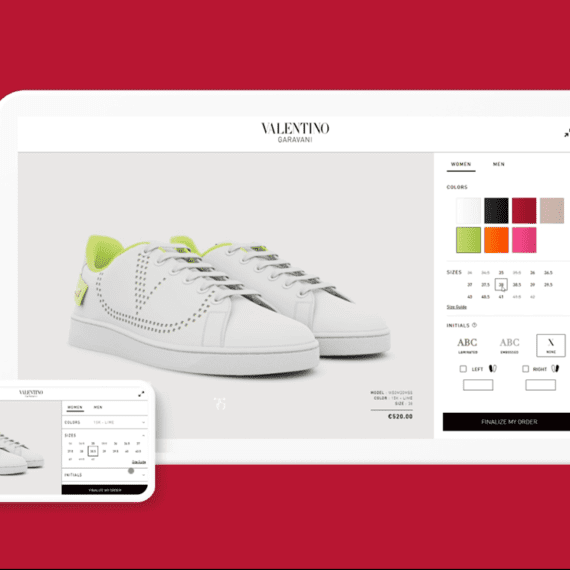 https://www.smartpixels.fr/wp-content/uploads/2021/05/Home-Header-1.mp4 Configurateurs produits interactifs par SmartPixels 6 astuces pour améliorer l'expérience client en ligne grâce à un configurateur produit interactif Souhaitez-vous offrir à vos clients
Read More »