The growing importance of omnichannel strategies
The role of stores is dramatically changing. While it used to be the main focus of brands, there's a shift to seeing stores as sales support for e-commerce.
With retail disrupted by the health crisis, efficient omnichannel strategies are crucial. The lines between the physical and digital worlds are becoming extremely blurred.

Having a digital presence is no longer an option for fashion. Since the closure of stores during the lockdown, omnichannel services are flourishing, demonstrating a shift in mindset: websites are no longer here to support stores, but it seems to be the other way around.
Andrew Lipsman, eMarketer principal analyst confirms the acceleration of omnichannel development due to the pandemic "There's a shift in the balance of power toward digital. While those late to the game are adapting incredibly well to this new imperative, there's no doubt that the ones that had already made the transition are a big step ahead."

As Vogue business defines it "Omnichannel refers to selling through multiple channels, and increasingly a blend of digital and physical, whether by uniting a customer's purchase history or fulfilling an order through more than one channel.". According to the Vogue Business Index of luxury fashion brands for the omnichannel category, scores suggest significant space for improvement. Ermenegildo Zegna received the highest omnichannel score, scoring 63 out of 100 in online-offline integration and 80 in the in-store experience. Chloé (58), Loewe (56), and Michael Kors (56) were also among the high scorers in offline-online integration. However, out of the 50 brands rated the highest score for online-offline integration (63) was 11 points lower than the lowest score for in-store experience (74).
As Lipsman highlights "When you are a legacy player, you might be less inclined to evolve as fast as needed to adapt to consumer habits. This has allowed the digital-first players to swoop in and own the primary point of distribution, commoditize the suppliers and gobble up the lion's share of revenues and profits in the process."
When stores support online sales
It has become more frequent to have omnichannel services enabling consumers to discover and purchase online but pick up or return in-store. For example, before the lockdown, Chloé used to let its shoppers buy online and pick up and return in-store. It was also possible to identify the nearest shop while finding products online. Since last year, Ermenegildo Zegna is offering clients door-to-door delivery. Other brands such as Decathlon or H&M have a much more utilitarian vision of the store using it as a logistic hub to fulfill online orders.
According to Salesforce, retailers offering "buy online, pick up in-store" options grew digital revenue by 27% in the first 3 months of the year compared to 13% for sites not offering the service.
Stores are far from being dead. Despite all the noise about digital, the undeniable domination of physical stores continues in the retail industry. In fact, according to the US Census Bureau, brick-and-mortar accounted for nearly 90 percent of all retail sales before the COVID crisis.
It's true that due to the current situation, the need for online solutions has been emphasized and demand for e-commerce has already grown. Salesforce has identified a 20% growth in e-commerce revenue in the first quarter of this year, compared to a 12% growth last year.
According to a study performed by Vogue Business, post-COVID-19, 60% of luxury Chinese consumers are willing to buy fashion through e-commerce platforms. Chinese stores are thought about letting consumers shop by appointment, which reinforced the need for e-commerce platforms to drive the purchase consideration.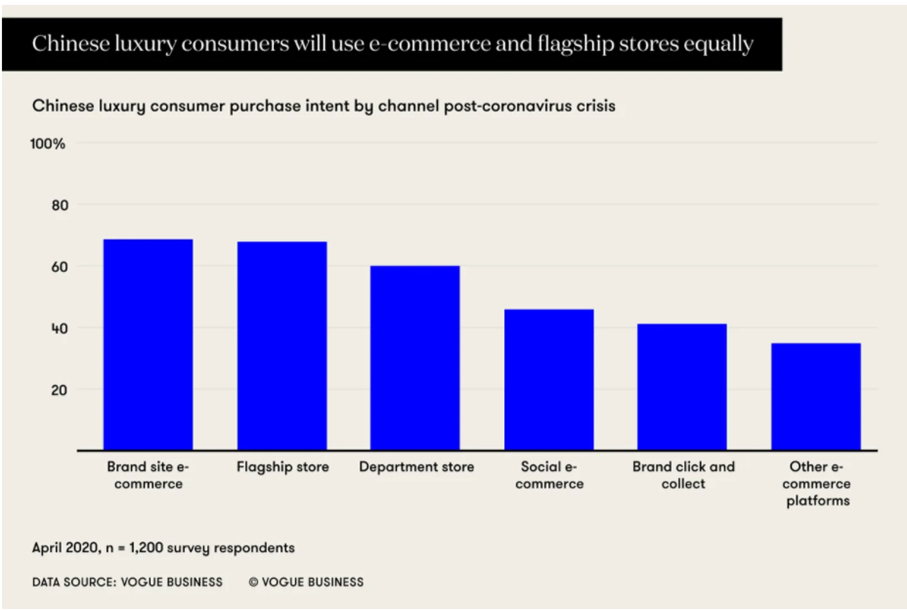 Today, having a simple e-commerce store-front or physical store presence is simply not enough anymore. In 2019, brands started to realize it and digital natives turned to physical store pilots, while traditional retailers rolled out digitally powered physical stores. In the months to come retailers should up their game with stores that can really leverage unique customer experience.

Among the important tenets of luxury are exclusivity and product customization. In order to engage individual conversations with their target audience, luxury brands have to be creative in the way they immerse consumer's in their brand universe. This can easily be done using technologies such as Augmented Reality and 3D. What if you could lend the power of co-creation to consumers through personalization? What if you could show them from their home, how your new pair of shoes looks on them using augmented reality? SmartPixels helps you build a relationship with your target audience by offering memorable customer journeys.
Brands should invest in the experiences they are delivering on their platforms. As Lipsman stated, "So much more pre-shopping and product discovery now happens on digital channels that by the time the customer makes it into the store — if they ever make it into the store — the shopper is much more ready to convert."
SmartPixels is an expert in creating unforgettable customer experiences both online and in-store. Don't hesitate to reach out to us at contact@smartpixels.fr for more details.